216 E 49th St
New York, NY 10017
212-207-3888
​
​Under the Kosher supervision of the Orthodox Union, OU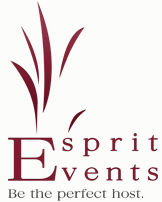 Kosher Catering Par Exellence
Esprit Events is reimagining wedding catering to fit the current climate. Don't compromise on delicious food and stunning presentation.
We specialize in small weddings where every guest feels taken care of. Our team of event planners will guide you every step of the way to create a most memorable event.
At Esprit Events, our team of chefs continue to inspire culinary innovation to bring you the very best in kosher cuisine. From individually packaged hors d'oeuvres to individual mini plate "buffet" we believe that every bite should be an experience that you won't soon forget.
Food is our art and events are our passion. We strive to amaze and inspire!
We are here to help you reimagine your wedding day.
Contact us at info@espritevents.com or 212.207.3888 for more information.
Esprit Events is under the Kosher supervision of the Orthodox Union, OU.
Our team of event specialists are here to ensure your party is perfect every time.