216 E 49th St
New York, NY 10017
212-207-3888
​
​Under the Kosher supervision of the Orthodox Union, OU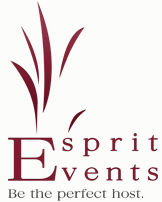 At Esprit Events, our team of chefs continues to inspire culinary innovation to bring you the very best in Kosher cuisine. We believe that every bite should be an experience that you won't soon forget.
​
It's never boring in the catering business – we're always looking for new ideas to wow you and your guests. We aim to produce the greatest and most cutting edge concepts in the business – whether they be food-related, design-inspired, or the latest trend. Food is our art, events are our passion. We strive to amaze and inspire.
​
We pride ourselves on our customer service. We tailor each event to fit your needs. Our team of event specialists are here to ensure your party is perfect, every time.
​
Esprit Events is under the Kosher supervision of the OU.
​
At Esprit Events, we don't believe that you should ever have to compromise on delicious food and stunning presentation. We think you should have your cake and eat it too! Our chefs are culinary geniuses and artists in their own right, creating state of the art masterpieces that will excite your taste buds for a full sensory experience.
Never compromise on flavor or flair
Esprit Events is a boutique Kosher caterer specializing in weddings, corporate events, galas, bar and bat mitzvahs, and so much more. We custom tailor each menu to fit your individual needs.